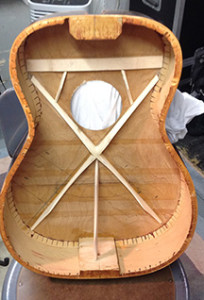 Revamp for classic American acoustics – Harmony Stella, Kay, Silvertone et. al.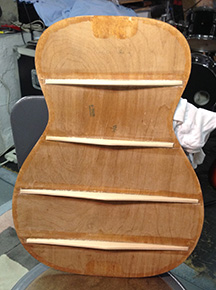 Remove neck, bridge, nut & all internal bracing. Handcraft and install new vintage bracing. Reset neck. Refret. Install new handcrafted bridge and saddle. Finishing options upon request.
Every project is different. Here's just a sampling of typical services. Pricing upon evaluation.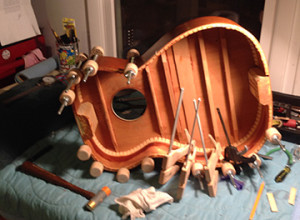 Setup and Troubleshoot: Neck adjustment along with nut and saddle fine tuning, fret leveling, re-crown and polish frets. Restring, adjust intonation, spray clean and check electronics, check and tighten nuts, screws and jack. Buff and oil fingerboard, clean and polish instrument.
Single fret replacement and dressing up to complete re-fret (includes new nut and setup)
Maple and bound neck: Bone nut, hand craft nut blank, sand, buff and install to height
Twelve String Nut: Bone Saddle, hand craft bone saddle blank, install and adjust to height:
Twelve String: Re-glue bridge, remove, clean, adjust to top and re-glue:
Bridge Replacement: replace existing with hand crafted bridge (includes saddle and setup)
Acoustic pickup installs
Add on-board pre-amp
Pick up installation (SC and HB style)
Archtop wiring: Jacks, pots, switches and wiring
Re-wire existing setup
Pick up repair
Replacement Gears
Vintage Tuner Restoration: Adjust and redrill tuner holes to size, fill and touch up old holes
Locking strap buttons
Neck-Reset (Martin and Gibson)
Remove neck, refit to proper angle and reglue
Neck and headstock fracture, Cracked necks, Broken in two… OK!
Finishing
MOP Inlay Fretboard Markers, headstocks, body decoration and more
Crack repairs, braces, bridge plates and finishes
Written insurance appraisals
Custom Inlay Work
Mother of pearl and other materials. Initials, lettering, ornaments and embellishments… check out these samples and let's talk!